Telephone: 0161 241 8039
Out of Hours: 0161 241 8039
Latest News (click title to open):
The GM Care Record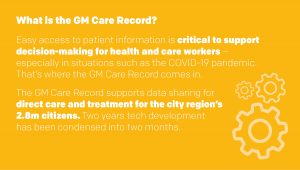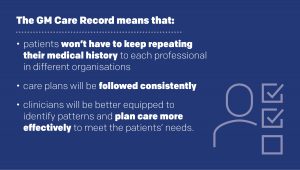 Sharing your vital patient information is critical in supporting your care and treatment, especially in situations such as the COVID-19 pandemic. To support this, in Greater Manchester we've developed the GM Care Record to support your care wherever and whenever you may need it.
The GM Care Record allows workers in health or social care easy access to your patient information to help them understand your needs and to support them in making the best decisions for your care.
It shares important information about your health and care including:
Any current health or care related issues
Your medications and treatments you may be receiving
Allergies, particularly to medication
Results of any recent tests or investigations that you may have had
Details on any plans created for your care or treatment
Information on any social care or carer support you may receive
Find out more at: https://healthinnovationmanchester.com/thegmcarerecord/